Wynkoop RailYard Ale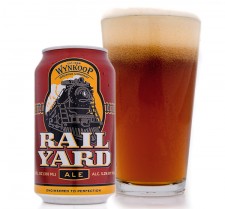 From Wynkoop – Our flagship brew is a smooth, amber beer that combines the malty goodness of an Octoberfest lager with the slight fruitiness of an ale. Hearty but refreshing.
Wynkopp Brewing – Wynkoop RailYaard Ale – 12 oz. can poured into a pint glass. 5.2% abv.
Appearance: Pours a vibrant cloudy amber with a tight, retaining creamy cap.
Aroma: Europ dry hopping, breadiness, a little citrus.
Taste: Bread, spicy hops, lager crispness, very faint burnt sugar. Finishes with lingering bitter hops.
Mouthfeel: Medium bodied, crisp.
Overall: A nice take on an Oktoberfest with a nice hop bite.