Widmer Downward Spiral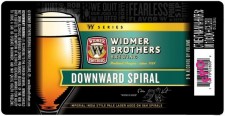 From Widmer Brothers – Downward Spiral is an imperial version of our Hopside Down India-style Pale Lager that was aged on new oak spirals. This bold wood-aged beer is an aggressively hopped, cold-fermented brew that brings together the clean, crisp finish of a lager with the hop character of an IPA, balanced by distinct oak flavors and aromas. Wood is good. Prost!
Widmer Brothers Brewing – Widmer Downward Spiral – 12 oz. bottle poured into a goblet. 9% abv.
Appearance:  Pours a hazy amber gold with a modest white frothy head.
Aroma:  Caramel, ripe cantaloupe, faint pine, vanilla.
Taste:  Hop bitterness, alcohol, fruit cocktail, oak.
Mouthfeel:  Full bodied, modest carbonation.
Overall:  Pretty tasty. Sometimes I can't appreciate a wood aged hoppy beer, but this one worked out pretty well.