Widmer Brothers Citra Blonde Summer Brew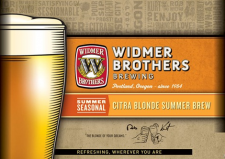 From Widmer Brothers – Citra hops lend their name to this interpretation of a Golden Ale. But that's not all they bring to the party. Their striking citrus aroma and thirst-quenching flavor are the perfect pairing for soft malt notes. Together they create a beer that's full in flavor and uniquely refreshing.
Widmer Brothers – Widmer Brothers Citra Blonde Summer Brew – 12 oz.bottle poured into a pint glass. 4.3% abv.
Appearance:  Pours a clear yellow gold with a micro film of white.
Aroma: Super dank citra nose.
Taste: Husky kolsch-like character, light citrus. Water.
Mouthfeel:  Thin, low carbonation.
Overall:  It's a funny beer. You are ready for a classic pale ale bite after smelling how dank it is, and you are left with a watery kolsch with low hop bitterness.