Victory Yakima Twilight Ale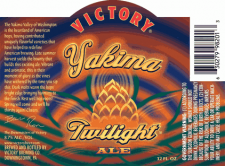 From Victory Brewing – The tenacious grip of big, juicy hop aroma and character slides smoothly into rich, dark malts. This heavyweight battle between fresh, Yakima Valley hops and dark, roasted malts is resolved harmoniously as the flavors merge to deliver complex satisfaction with a warming edge. Enjoy the 'twilight' for the bright and brassy hops!
Victory Brewing Co. – Victory Yakima Twilight Ale – 12 oz. bottle poured into a pint glass. 8.7% abv. Purchased at Whole Foods Market Pasadena, CA.
Appearance: Pours a dark ruby with a thick frothy beige head. Leaves tons of lacing.

Aroma: Chocolate malt, orange, grapefruit, and spicy herbal hops.
Taste: Biter citrusy hops and dark chocolate. Makes for an amazing combo.
Mouthfeel: Full bodied, moderately carbonated. A tad sticky maybe.
Overall: I was really impressed with this beer. Whether it be 'An American Strong Ale' or a Black IPA, this beer rocks. I want to take an educated guess and say drink this beer fresh due to that wonderful citrusy hop profile.