Upland Teddy Bear Kisses
From Upland Brewing – A dark and robust beer brewed in the traditional stout method. Teddy Bear Kisses features an abundance of dark malts and high alpha hops for a powerful impact of roast, chocolate, and sweet bitterness. The lucky few who cuddle up to a warming session with Teddy Bear Kisses sense the velvety malt character, balanced bitter intensity, and soothing chocolate notes created by long aging on fair trade cocoa nibs. Teddy Bear Kisses will make you feel warm and happy inside, but it's definitely not your childhood cuddle toy.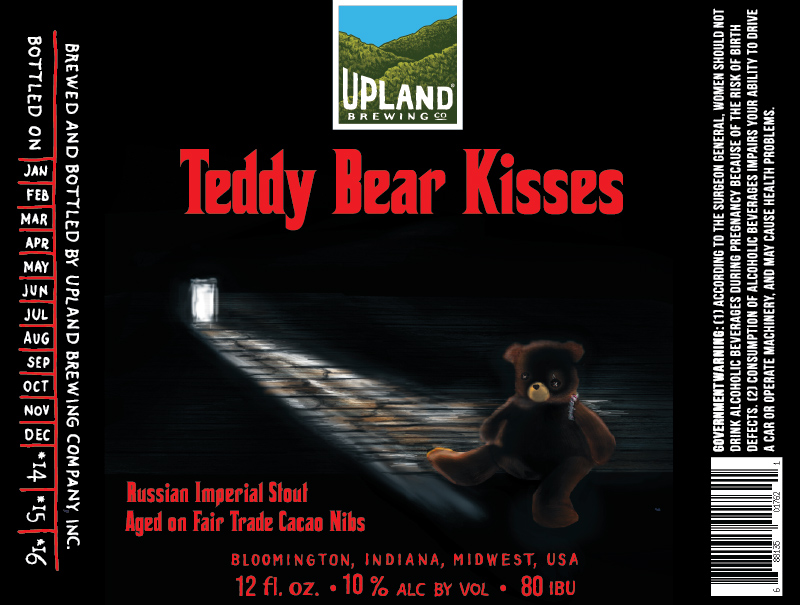 Upland Brewing Co. – Upland Teddy Bear Kisses – 12 oz. bottle poured into a goblet. 10.2% abv.
Appearance:  Dark brown with a head that shrinks to nothing.
Aroma: Cola, dark roasted malt, anise, caramelized dark fruit.
Taste:  Dark roasted malt, black coffee, dark chocolate, ripe dark fruit. Spicy hops.
Mouthfeel: Full bodied. Average carbonation.
Overall: Absolutely nothing wrong with this beer, a perfect example of an Imperial Stout.