Twisted Pine Billy's Chilies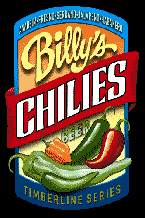 From Twisted Pine – The wildly acclaimed new Billy's Chilies beer is made with fresh anaheim, fresno, serrano, jalapeno and habanero peppers. It has an aroma that jumps out of the bottle, followed by a mild yet insanely satisfying flavor and a pleasant finish.
Twisted Pine – Twisted Pine Billy's Chilies – 12 oz. bottle poured into a pint glass. 5.1% abv.
Appearance: Pours a clear gold with almost no head.
Aroma: Jalapeno potato chips.

Taste: Jalapeno potato chips with subtle heat.
Mouthfeel: Medium bodied, scratches the back of my throat.
Overall: Fun, ten times better than Cave Creek, but still nothing you would want more than a sip of for giggles.