Tröegs Nugget Nectar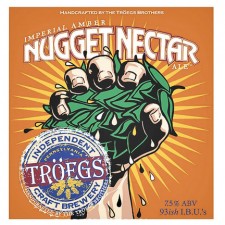 From Tröegs – Squeeze those hops for all they're worth and prepare to pucker up! Nugget Nectar Ale will take hopheads to nirvana with a heady collection of Nugget, Warrior and Tomahawk hops. Starting with the same base ingredients of our flagship HopBack Amber Ale, Nugget Nectar intensifies the malt and hop flavors to create an explosive hop experience.
Tröegs Brewing – Tröegs Nugget Nectar – 12 oz. bottle poured into a pint glass. 7.5% abv.
Appearance:  Pours a clear copper with a head that subsides to a thin white cap.
Aroma:  Big bright citrusy hops, tropical fruit and some sweetness.
Taste: Grapefruit and  piney hop bite, caramel and toasty malt. Long earthy hop finish.
Mouthfeel:  Medium bodied, modest spicey carbonation.
Overall: A wonderful hoppy treat that's really in a league of it's own. Whether you want to call it a hoppy amber, a hoppy red IPA, or just an IPA, the flavors and aromas of this beer don't lie, it's amazing.