Three Floyds Munsterfest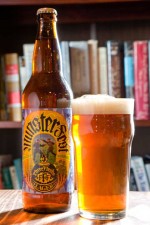 From Three Floyds – This Bavarian style Oktoberfest Bier is brewed with the finest German ingredients in accordance with the Reinheistgebot or German Purity Law. This malty and crisp lager is one of the few that remain true to the Fest Biers of old. "Es ist nicht normal." September release.
Three Floyds Brewing – Three Floyds Munsterfest – 22 oz. bottle poured into an English pint glass. 6.0% abv. From Bobby Sullivan in Indiana!
Appearance: Pours a cloudy amber white with a thin white ring of head.
Aroma: Orange tootsie roll pop and toasted barley.
Taste: Burnt toast, orange candy and a slight chocolaty finish.
Mouthfeel: Full bodied with modest carbonation.
Overall: One of the most unique beers in the name of an Oktoberfest beer.  Would definitely drink it again.