Terrapin Side Project Volume 19: Mosaic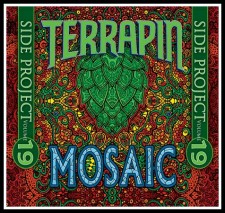 From Terrapin – Volume 19: Mosaic Single Hopped Rye Ale. Brewer "Spike" has an affinity towards rye malt, so this comes a no surprise. Freshly harvested from Hop Breeding Company, LLC in Yakima Valley, the hops used in Side Project 19 "Mosaic" came freshly picked from the fields of Perrault Farms, to our brewery, and into your glass. Known as hop HBC 369 before official naming in 2011, Mosaic is the daughter of Simcoe (YCR 14) and a Nugget-derived male. To get the best of all worlds from this new Humulus lupus, we used 100% Mosaic throughout the brewing process to utilize all the flavor and aroma that this world-class hop has to offer.
Terrapin Beer Company – Terrapin Side Project 19: Mosaic – 22 oz. bottle poured into a pint glass. 6.6% abv.
Appearance:  Pours a hazy iced tea reddish brown with a micro film of white.
Aroma:  Dank simcoe/amarillo action, grapefruit sprinkled with brown sugar.
Taste:  Initial grapefruit hop  bitterness, a tad piny, light toasty malt,but all and all, the hop shines through the entire beer. A little red fruit skin.
Mouthfeel:  Medium bodied, lively carbonation, a little rough.
Overall:  Very tasty, and a nice way to get to know this Mosaic hop.  If you try this beer and enjoy it, try Terrapin's Big Hoppy Monster, which is one of my favorites from them.