Terrapin Hopsecutioner IPA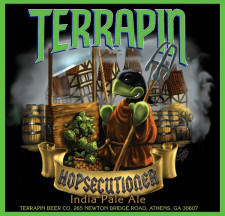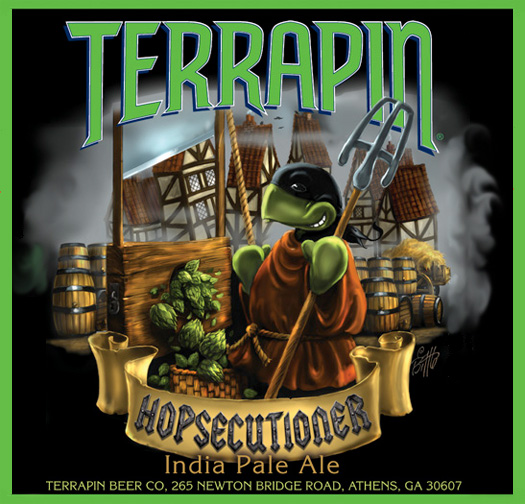 From Terrapin Beer Co. – Hear ye, hear ye…hopheads around the southeast are rejoicing today at the news that Terrapin Beer Co. of Athens Georgia has announced the release of the Hopsecutioner IPA! Word is you can run but you can't hide from the amazing hop profile executed in the newest addition to Terrapin's year round portfolio of beers. What is the devious grin on the Hopsecutioners masked face all about? It's because he's already had a pint! If you haven't, you're going to want to change that!
Terrapin Beer Co. – Hopsecutioner IPA – 12 oz. bottle poured into a pint glass. 7.2% abv.
Appearance: Pours an amber gold with a small white head.
Aroma: Centennial hops, sweet golden malt, some huskiness and some bread.
Taste: Bitter and slightly tropical hops, definite fruitiness, and a bready malty backbone.
Mouthfeel: Full bodied, moderate carbonation.
Overall: The hop bill is very west coast, and the malt was a nice surprise. Drink this fresh folks, its a wonderful hop experience.