Terrapin French Toasted W-n-B
From Terrapin Beer Co. – Breakfast in a bottle returns this year with one of our favorite morning time treats. "French Toasted W-n-B" combines big maple syrup notes, fresh coffee, and hints of vanilla and cinnamon to stand out among ordinary Imperial Stouts. With this much decadence packing into one bottle, this beer will get you back to the table for another round.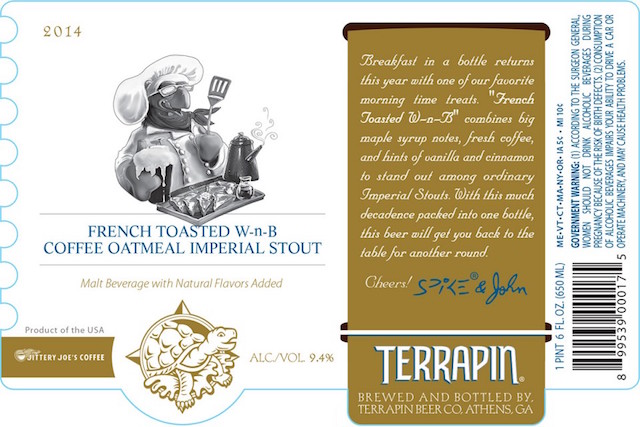 Terrapin Beer Co. – Terrapin French Toasted W-n-B – 22 oz. bottle poured into a snifter. 9.4% abv.
Aroma:  Pours a still viscous looking dark brown.
Aroma:  Sweet prepared coffee. Coffee candy/ice cream. Diner/maple syrup.
Taste:  Delicious thick cold brew, dark roast, vanilla, banana custard, peppery roast spice finish.
Mouthfeel:  Full bodied. Prickly carbonation.
Overall:  I was expecting this to be on the cloyingly sweet side and something I wouldn't be able to drink much of. I was pleasantly surprised and enjoyed it immensely.  The coffee was perfect and the "French Toasted" treatment was more than subtle but less than overdone.