SweetWater Festive Ale 2010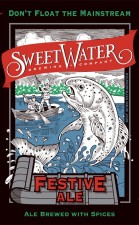 From SweetWater Brewing – Winter Coat Season – A strong ale brewed with generous amounts of rich malt, coupled with a taint of cinnamon and mace to keep you warm and toasted all winter long  We Double Dog Dare You.
SweetWater Brewing – SweetWater Festive Ale 2010 – 12 oz. bottle poured into a goblet. 8.5% abv.
Appearance: Pours a deep cola brown with nothing more than a creamy tan ring for head. No lacing. If you hold the beer up to the light, you can see a very small amount pass through.
Aroma: Black cherry, cola, cough syrup, raisins and toast.
Taste: Roast, herbal hops, dark fruit, walnut, cocoa powder, sassafras, and bread crust. Finishes with some alcohol warmth.
Mouthfeel: Medium bodied, moderate carbonation.
Overall: A very solid free-style ale that captures the vibe of winter warmers quite well.