SweetWater Dank Tank BSP Quad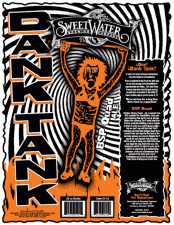 From SweetWater Brewing – Dank Tank creations emerge from the dark side of SweetWater's brewers and are few and far between, meaning those in the know are clamoring to get their hands on this brew. Only 500 cases and 50 kegs of BSP Quad are shipped out of the brewery, primarily to Atlanta and a few other lucky cities in the Southeast, including Tallahassee, FL; Raleigh, NC; Charleston, SC; and more. Like past Dank Tank beers, BSP Quad will likely vanish in about six weeks… gone, but never forgotten.
SweetWater Brewing – Dank Tank BSP Quad – 22 oz. bottle poured into a goblet. 11% abv.
Appearance: Pours a dark, reddish brown with a cap of white frothy film.
Aroma: Bubblegum, banana, flowers, dark fruit.

Taste: Dark fruit, booze, vanilla and banana.
Mouthfeel: Thick, creamy and fizzy.
Overall: Simply awesome.  This beer was bold and focused. I enjoyed it fresh, but could see liking it a lot more after a year. SweetWater is doing some big things with this Dank Tank Series.