Surly Five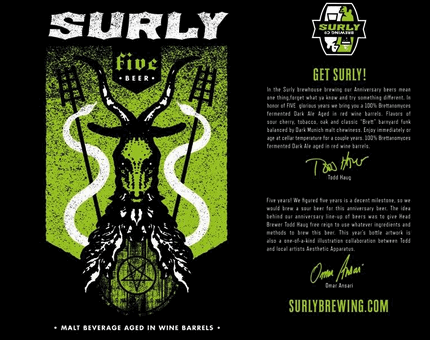 From Surly – In honor of Surly Brewing's fifth anniversary we brewed a 100% Brettanomyces fermented brown aged in used red wine barrels. Brettanomyces is a yeast used in place of "normal" brewing yeast, it produces a unique flavor profile. Pentagram is a single barrel "tasting" of Five. Five (with all barrels blended together) released during spring 2011 in bottles and kegs. Pentagram has strong flavors of earthy black cherry and raisins with a sour finish.
Surly Brewing – Surly Five – 22 oz. bottle poured into a goblet. 7.87% abv. Thanks to Adam in MN!
Appearance: Pours a dark reddish brown with no head.
Aroma:  Sweet and sour cherry, red wine barrel, dark fruit. A touch of dark chocolate.As it warmed, I found some strawberry lemonade.
Taste: Chocolaty toasted malt,sour cherry, currant. Bitter hops, funky acidic  sour finish that lingers. Didn't pick up much wine barrel astringency.
Mouthfeel:  Chewy, full rich malt. Modest carbonation.
Overall:  I loved this beer. Perfect body, perfect level of sourness. It's drinking great right now, no need to wait. However, I would like to see where the Brett goes with time.  I would compare this beer to Consecration or Marron Acidifie as far as Dark Strong Sours go. I was asked if it's worth it's price tag, I'd say yes. It's tasty, complex, and put in beautiful packaging.