Surly CynicAle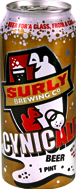 From Surly – Oh great, a fizzy yellow beer in a can, that's just what the craft beer world needs! CynicAle melds Old World ingredients in a new school style. French malted barley, English oats and Belgian yeast create honey & black pepper flavors. Lively Slovenian hops provide the floral, apricot and peach notes. Toss your doubts away, toss one back and enjoy!
Surly Brewing – Surly CynicAle – 16 oz. can poured into a goblet. 6.5% abv. Thanks to Tyler in MN.
Appearance: Pours a hazy amber gold with a pillowy 1/2 inch white head.
Aroma: Bready yeast, light earthy hop. Mostly doughy notes.
Taste: Sharp, spicy yeast, bitter spicy hops, dry malt. Finishes with a nice little twang.
Mouthfeel: Full bodied, medium carbonation.
Overall: Very drinkable, very enjoyable. Nice and bitter and refreshing.