Surly Brett Mikkel's IPA
From Surly Brewing – A collaboration between Surly and the traveling Danish brewer Mikkel Bjergsø, this beer takes the concept of an IPA, blends in a variety of new German aroma hop varietals, and ferments them with Brettanomyces, rather than a traditional English ale strain. Light-bodied and dry, the combination of Brett and hop varieties offers complex earthy notes with tropical and candied fruit aromas, while the Honey Malt provides an intense malt sweetness. MALT 2-Row, Gambrinus Honey Malt, Acidulated Malt HOPS Warrior (bittering only), Huell Melon, Hallertau Blanc, Mandarina Bavaria YEAST 100% Brettanomyces OG 16.5º Plato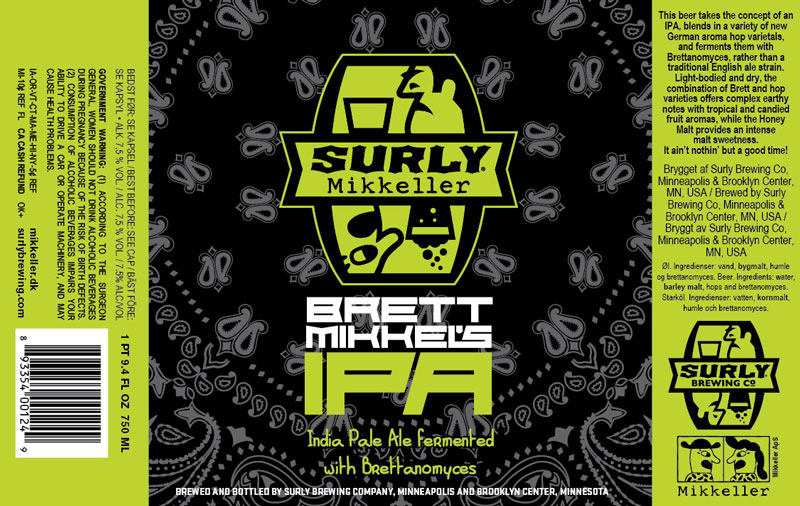 Surly Brewing – Surly Brett Mikkel's IPA – 22 oz. bottle poured into a goblet. 7.5% abv.

Appearance:  Pours clear copper with white 1/4 film of white.
Aroma: Delicious classic funky brett, whole grain crackers, light green grape skin and rainy earth.
Taste: Big brett and yeast up front. Slight earthy/metallic, Euro hops. Sweet pale malt with a touch of honey balancing it out.
Mouthfeel: Full bodied, modest carbonation.
Overall:  This was a well executed brett beer that went outside of the usual boundaries brewers usually stay in when making a bretted IPA. This is ready to drink but would probably be fun to sit on for 6 months or more, even considering the hop profile degradation.