Stone Saison – Tasting Notes
From Stone Brewing Co. – In spring 2011, Stone bought the farm, literally, taking over 19 acres of fertile Southern California soil where we now grow pristine fruits, vegetables, herbs and more for our Stone Brewing World Bistro & Gardens restaurants. A taste of our homespun farm-to-tableism is provided in this farmhouse ale stoked with lemon zest, plus lemon thyme and lavender straight from Stone Farms. This spring-to-summer saison is citric and herbal on the palate with a dry, peppery finish. Thanks to the infusion of fresh West Coast ingredients, this isn't your everyday saison. It's our saison—100% Stone. Celebrate the sunny season with an authentic taste of our farm and, with it, our commitment to quality.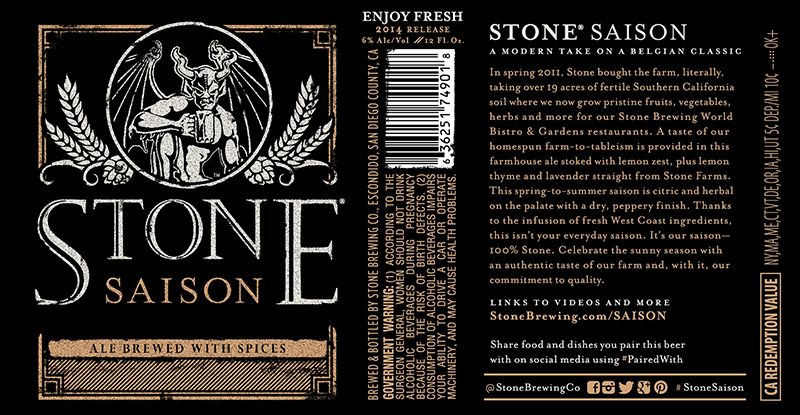 Stone Brewing Co. – Stone Saison – 12 oz. bottle poured into a goblet. 6% abv.
Appearance:  Pours a hazy amber gold with a quickly subsided white head.
Aroma:  Fresh herbs, perfumy Belgian yeast, clove.
Taste:  Fresh herbs, spicy earthy yeast, peppery spicy, modest spicy hops, finishes with a tart twang and some heat on the middle of the tongue.
Mouthfeel:  Very lively carb Full bodied.
Overall: This is a fantastic Saison, and I feel that way for many reasons. I'm a big fan of Saison du BUFF, and this has some similar qualities. It's snappy and tart, it's spicy, and it has the perfect abv level for a Saison. So if you love Sainson du BUFF, this beer is for you, and if you hate Saison du BUFF, this beer is for you. There is definitely herbs present, but it's not over the top like SdB. I'm also impressed with the peppers playing a role in spiciness that usually comes from lots European hops. This beer is hoppy no doubt, but it's not the first thing that crosses your mind when taking a whiff and sip.