Stone Funky Sour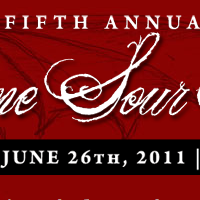 Stone Sourfest 2010 showcased two Stone Brewing made sours, one of them was Stone Funky Sour. Stone Sourfest 2011 will be on June 26, and we hope Stone will share more of their sour experiments with us.
Stone Brewing Co. – Stone Funky Sour – On tap at Stone Sourfest 2010 – abv. unknown.
Appearance: Pours like a glass of unfiltered pressed apple cider.
Aroma: Sour fruit and maple sugar.
Taste: Maple sugar, savory spice (couldn't pin point it) and sour dark fruit, perhaps plum.
Mouthfeel: Medium bodied. Spicy on the throat, like chipotle.
Overall: Very savory and funky. The malts reminded me of a fresh Double Bastard, and it resembled it in appearance. (Some speculation this is soured 06.06.06 from friends). Anyway, it was fun to try, and it's fun to imagine Stone making a Sour beer for production one day.