Stone Farking Wheaton w00tstout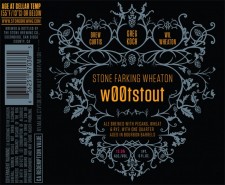 Stone Brewing Co. –  Stone Farking Wheaton w00tstout – Poured into a snifter from growler – 13% abv.
Appearance:  Pours a viscous looking dark brown. A very modest tan heads, subsides to a pin stripe ring. Even after some serious swishing the beer gets still quick.
Aroma:  Dark chocolate. Pecan, light woodsmoke and lumberyard, caramel.
Taste:  Dark chocolate dark roast coffee, pecan, spicy bitter hop, burnt caramel, alcohol.
Mouthfeel:  Full bodied, a little sticky with very active carbonation.
Overall: Big, flavorful, strong. Something you could definitely revisit in a year. I also anticipate the 100% barrel aged version to be something to look forward to.