Stone / Ecliptic / Wicked Weed Points Unknown IPA
From Stone Brewing Co. – It seemed no single beer could adequately convey the collective talents of Portland, Oregon brewing legend and Ecliptic Brewing founder John Harris; Luke and Walt Dickinson, the brewmaster duo behind North Carolina's Wicked Weed Brewing; and Stone Brewmaster Mitch Steele. So, this veritable triad of power opted to brew TWO beers. The first was a traditional Belgian-style tripel aged four months in oak barrels that originally housed red wine, then tequila. It was then blended at a one-fourth to three-fourths ratio with a freshly brewed West Coast double IPA to create this beer. A variety of diverse flavors coalesce into something more unique than any one beer our trio could have conceived.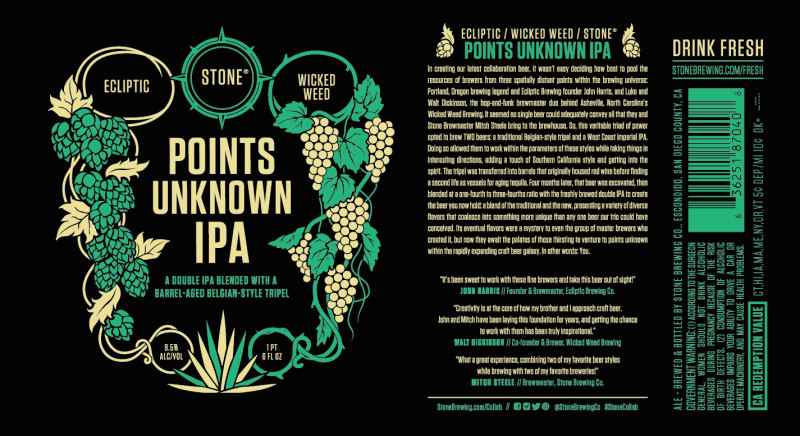 Stone Brewing Co. – Stone / Ecliptic / Wicked Weed Points Unknown IPA – 9.5% abv.
Appearance:  Pours a deep copper with a thick white ring around the edge. Clear body.
Aroma:  Spicy Belgian yeast, vanilla, honey dew, wet wood.
Taste:  Toasty malt, big barrel , sharp spice presence, melon and bitter hops in the finish. Noticeable alcohol.
Mouthfeel:  Full bodied, drying and borderline astringent.
Overall: I simply didn't enjoy this beer. Too sharp and too spicy for my liking.