Stone 12th Anniversary (Two Years Later)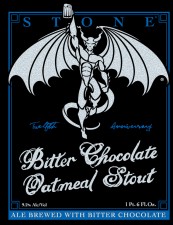 As Stone 14th Anniversary approaches, I wanted to check in, and see how Stone 12th Anniversary Bitter Chocolate Oatmeal Stout is doing.  The beer was a hot monster when it was fresh, and toned down a bit after about 3 months on it.  I say this with most of the last few anniversary ales, Stone should make this year 'round. Here are the tasting notes, 2 years later.
Stone Brewing Co. – Stone 12th Anniversary Bitter Chocolate Oatmeal Stout – 22 oz. bottle poured into a goblet. 9.2% abv. Purchased at Certified Market, Monrovia, CA.
Appearance: Pours a viscous midnight brown with a thin oily head.
Aroma: Dark and milk chocolate followed by a small hint of red berry.
Taste: Dark chocolate pudding.  It's all I could think sip after sip.
Mouthfeel: Very silky, modest prickly carbonation.
Overall: Wow and amazing.  This beer is doing very well, wish I had two cases. It was one of those beers I had a hard time putting away over the past two years.