Stone 10th Anniversary IPA (3 Years Later)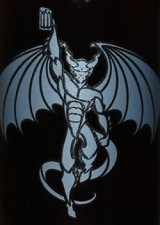 From TFP: Man I still vividly remember my first bottle of this beer. Really hot, really spicy, aroma you could smell from a mile a way. I didn't know any better, came home from work, and drank this way to fast.  Went dizzy and went straight for the bathroom. Kids, don't chug 10%+ beer. Even if it does taste this magical. Fast forward to last year and this year, Stone 10th Anniversary Ale has not turned into the goopy mess all the beer geeks want it to be.
Stone Brewing Co. – 10th Anniversary IPA – 22 oz. bottle poured into a goblet. 10% abv. Bottled in 2006, Reviewed in 2009. Purchased at Lone Hill Liquor – Glendora, CA.
Appearance: Pours a bright orange amber with a fluffy beige head.  Looking at the body, it seems mostly clear, with some active carbonation, and minute particles of yeast flying around.

Aroma: Big aromas of mango and pineapple.  Also some sugary sweetness.
Taste: Candied grapefruit at first, followed  resinous piny bitter hops that lay on the middle of my tongue, and finishes modestly sticky sweet with pineapple notes.
Mouthfeel: Sticky.
Overall: Still hoppy after all those years. Do you play by your own rules, or do you not believe in rules at all?  If so, go against the grain and age that Stone 13th Anniversary Ale. By most accounts, this beer shouldn't be this hoppy. That's just not the case with this beer. Very enjoyable too! If I had to compare it to a similar Stone beer, I'd say at this point, its about a one year old Old Guardian.