Reviewed: Surly Darkness 2017
Product description: This massive Russian Imperial Stout brings waves of flavors; chocolate, cherries, raisins, coffee, and toffee, finishing with a non-traditional dose of aroma hops.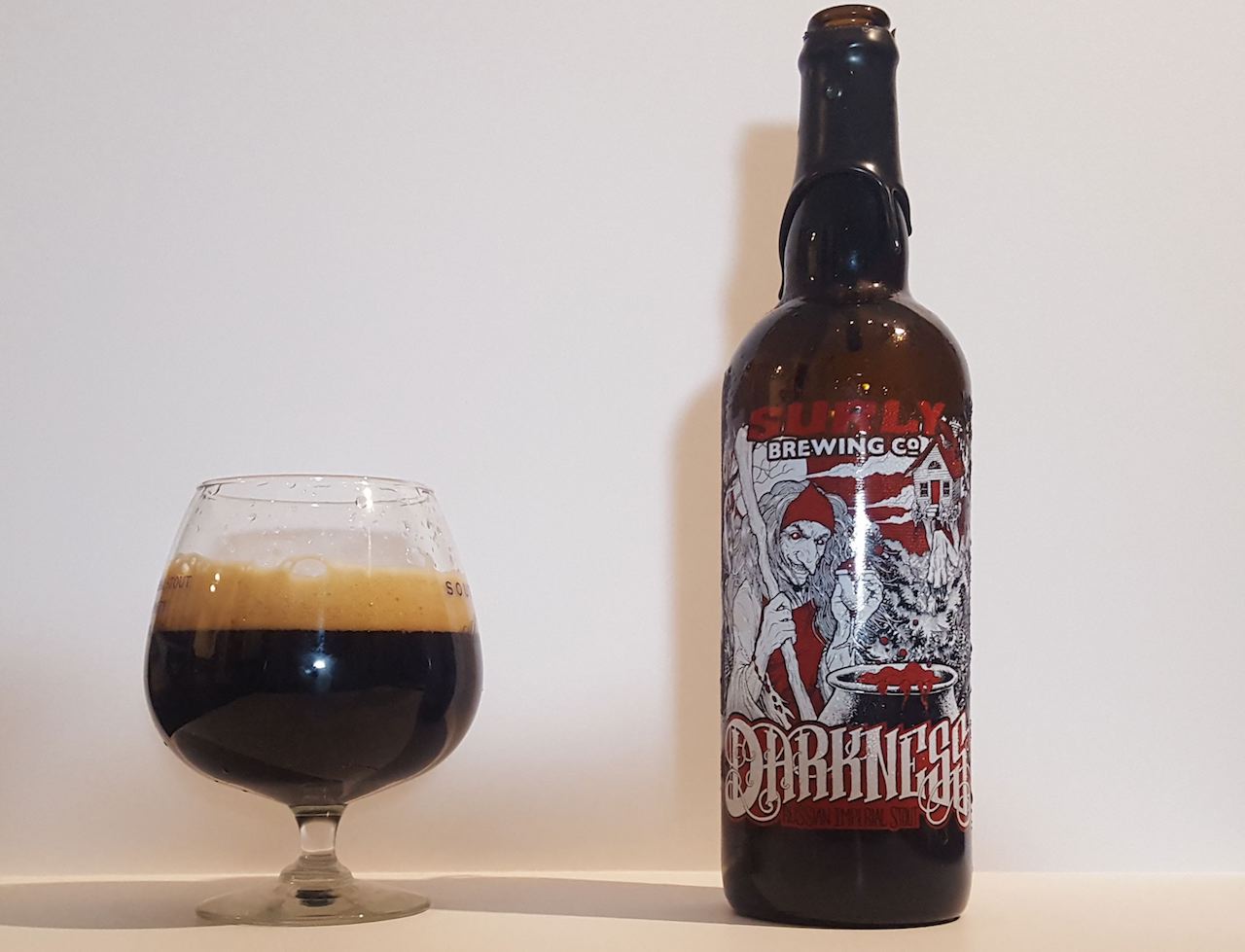 Surly Brewing – Surly Darkness 2017 – 22 oz. bottle poured into a snifter – ~9-10% abv.
Surly Darkness is one of those epic imperial stouts in the same league as Three Floyds Dark Lord. Each year since 2007, this beer has been bottled up for release at the brewery on a day known as Darkness Day. I believe Darkness has been around, though, since 2006, making it a legend in the craft beer world. Each year it also gets an original label design from a local artist. You can peruse each year's design on the Surly website. And at least for the past three vintages, Surly has posted the recipe. According to those, it looks like the recipe is tweaked a little bit each year. A couple of constants I noticed are that the past three iterations have included oats and, in addition to a variety of specialty malts, candi sugar or brewers crystals to up the sugar content and boost ABV, which I find odd since Darkness seems to float around 10-12% – nothing too crazy. But enough editorial stuff, let's drink this newest vintage.
Darkness is a predictable jet black poured into the glass and generates an enormous head of thick, tan foam. There's incredible head retention and each sip leaves sizeable rings of lacing along the glass edge. The aroma begins with waxy dark chocolate, black crayon, oil-cured Beldi olives with saltwater and tar. It's a perfectly savory aroma for this style.
Flavor-wise, Darkness starts sweet segueing to a rich, silky mid-palate with moderate bitterness. Brined black olive and waxy dark chocolate continue to dominate. The beer then finishes semisweet and well-balanced with no lingering sugar or alcohol. I think my biggest criticism going into this beer was the puzzling addition of more sugar, but the result is something incredibly drinkable and silky smooth throughout perhaps thanks to the oats addition. When I think of imperial stout, the bar for me is Bell's Expedition. I still think this beer could use more intense bitterness and less sugar in that vein.
Given this beer's reputation, I had a panel of fellow beer lovers sample this bottle with me. This gave me the opportunity to serve the beer to them in a blind test. All three of them raved about this beer. Each one said that it was smooth and creamy in mouthfeel, not too heavy, and not too sweet. The consensus was that even though this is a big bottle that warrants sharing at a special tasting, you may want it all to yourself.
I hope everyone that is fortunate enough to grab this year's release on the 21st is similarly impressed.