Smuttynose Stone Clusters Last Stand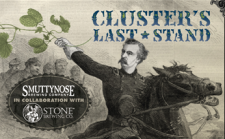 From Smuttynose Brewing – So last month, Greg Koch from Stone Brewing Company joined us to brew 30 barrels of Cluster's Last Stand, a beer that recreates the original, right-after-Prohibition Ballantine IPA recipe, as found in Mitch Steele's, epic book on India Pale Ales. You can see from the ingredient list below that Cluster's Last Stand truly isn't your everyday IPA, but we just drank some during the bottling run and it's just as delicious as anything out there on the market today. 8.3% abv 62 IBU's Malts: North American 2-Row, Flaked Maize, Munich 10L, C-60 Hops: Bittering-Cluster, Flavor- Brewers Gold and East Kent, Dry Hop- Bullion Yeast: White Labs WLP-001 American Ale (widely rumored to be the original Ballantine strain)
Smuttynose Brewing in Collaboration with Stone Brewing Co. – Smuttynose Stone Clusters Last Stand – 22 oz. bottle poured into a goblet. 8.3% abv.
Appearance: Pours amber gold, think white cap of white, leaving behind tremendous lacing.
Aroma: Pine, grapefruit essence, apricot preserves.
Taste:  A nice mouthful of piney American hops. Some fruitiness. Subtly sweet malt and toasted malts. Finishes with earthy bitterness.
Mouthfeel: Full bodied, average carbonation.
Overall: For not being my preferred type of IPA, this is very tasty and very fresh.  Not many people outside of Portsmouth Brewing got to try batch 1 last year, so I am very glad they did this beer on a slightly larger run.