Sierra Nevada Hop Harmony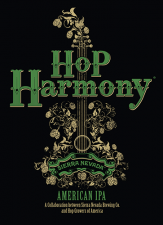 From Sierra Nevada –  Born in harmony with a collaborative spirit, this beer began life as the official beer of the Hop Growers of America's annual convention held at Sierra Nevada. Hop Harmony showcases experimental hop varieties from pioneering hop breeders in the United States. This American IPA provides a glimpse of the exciting beers we will create together in the years to come. CHEERS!
Sierra Nevada Brewing – Sierra Nevada Hop Harmony – 750 ml. bottle poured into an imperial pint glass. 6.7% abv. Thanks to my NorCal Beer Angel
Appearance:  Pours a clear copper with a fluffy beige head that slowly subsides.
Aroma: Piney and grapefruit hop nose. Classic Sierra nevada nose. I'm sure I could pick it out in a blind smelling.
Taste: Bright citrus hops, bitter piney cascade-like hops, fairly dry toasted malt. Medium duration.
Mouthfeel:  Full bodied average carb.
Overall:  Not a knock on the beer, but so very similar to the Estate series beers, I couldn't discern this beer from those beers.  Very delicious, great hop character without being a hop bomb.