Sierra Nevada Celebration Ale 2009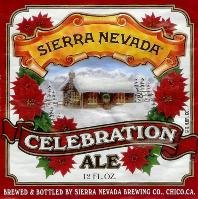 From Sierra Nevada Brewing Co. – The long, cold nights of winter are a little brighter with Celebration® Ale. Wonderfully robust and rich, Celebration® Ale is dry-hopped for a lively, intense aroma. Brewed especially for the holidays, it is perfect for a festive gathering or for a quiet evening at home.
Sierra Nevada Brewing – Celebration Ale 2009 – 12 oz. bottle poured into a goblet. 6.8% abv. Purchased at Whole Foods Market – Arroyo Pasadena, CA
Appearance: Pours a beautiful orange amber with a beige fluffy dense head. Leaves a great amount of lacing on the glass.

Aroma: Grapefruit, pine and a large amount of spicy malt.
Taste: Spicy malt, a kiss of bitter chocolate, sturdy bitter hops and a slight citrus twang in the finish.
Mouthfeel: Perfectly carbonated and slightly sticky.
Overral: One of the best beers in the world. This year seemed to have less hop aromatics than last year. Still, I have gone through a ton as it satisfies my beer tooth all winter long.