Sierra Nevada Barrel Aged Bigfoot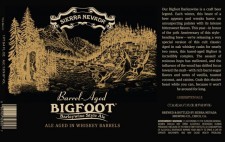 From Sierra Nevada – Our Bigfoot Barleywine is a craft beer legend. Each winter, this beast of a beer appears and wreaks havoc on unsuspecting palates with its intense bittersweet flavors. This year—in honor of the 30th Anniversary of this style-bending brew— we're releasing a very special version of this cult classic: Aged in oak whiskey casks for nearly two years, this barrel-aged Bigfoot is incredibly complex. The assault of resinous hops has mellowed, and the influence of the wood has shifted focus toward the malt—with rich burnt-sugar flavors and notes of vanilla, toasted coconut, and raisins. Grab this elusive beast while you can, because it won't be around for long.
Sierra Nevada Brewing – Sierra Nevada Barrel Aged Bigfoot – 750 ml. bottle poured into a goblet. 12.2 % abv.
Appearance: Pours hazy dark red with a thin tan ring.
Aroma: Sweet cherry and plum, bourbon.
Taste: Wood, walnuts, dark chocolate,cereal, warm woody bourbon finish. Subdued hops compared to fresh.
Mouthfeel: Full bodied lively creamy carbonation.
Overall: Worth the hype, amazingly tasty.  For those familiar with fresh and aged Bigfoot: this is it's own beast.  The agressive hops are subdued and the malt smooths out with the presence barrel character.  I wouldn't bother aging this, I'd drink this now.