Sierra Nevada 30th Anniversary Jack & Kens Ale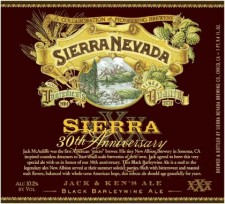 From Sierra Nevada Brewing – Jack McAuliffe was the first American "micro" brewer. His tiny New Albion Brewery in Sonoma, California inspired countless dreamers to start small-scale breweries of their own. Jack agreed to guest brew this very special ale with us in honor of our 30th anniversary. This Black Barleywine Ale is a nod to the legendary ales New Albion served at their legendary summer solstice parties. Rich with bittersweet and roasted malt flavors, balanced with whole-cone American hops, this robust ale should age gracefully for years.
Sierra Nevada Brewing – Sierra Nevada 30th Anniversary Jack & Kens Ale Black Barleywine Ale – On tap at Tony's Dart's Away Burbank, CA. 10.2% abv.
Appearance: Pours a midnight brown with a decent tan head that subsides to a mere ring.
Aroma: Creme Brulee top. Not a lot of nose otherwise.
Taste: Alcohol, burnt sugar, brown sugar. Finishes with aggressive hop bitterness.
Mouthfeel: Slightly sticky, medium carbonation.
Overall: Solid. I had higher expectations. Perhaps this beer needs some time to develop. I will surely try it again.