Shorts The Liberator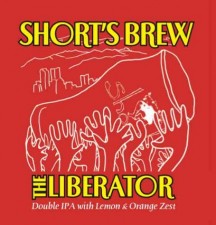 From Short's Brewing – To pay homage to the original hop headed hero of Short's Brewing Company, this beer was made as a 30th birthday gift for Joe Short. A double IPA, this beast employs a sizable malt bill, but it's the ridiculous amounts of hops added to the boil every 4 minutes, for 120 minutes, that showcases this beer. A fruity, floral, piney intensity of hops penetrates through the caramelized malt profile. This well balanced, full bodied brew finishes bitter with a punch of fresh citrus from the addition of lemon and orange zest post fermentation.
Short's Brewing – Short's The Liberator – 12 oz. bottle poured into a goblet. 8% abv. From online trade.
Appearance: Pours a deep amber gold with a micro film of white.
Aroma: A strong whiff of pine grapefruit and tangerine. When I say strong, I'm saying floor cleanser strong.
Taste: Bitter earthy hops, citrus bouquet. Abrasive astringent lingering bitterness.
Mouthfeel: Full bodied, average carbonation.
Overall: A pretty awesome bitter beer. I like that extra dose of citrus added to an already dank beer.