Saint Archer IPA
From Saint Archer Brewing – Everything you'd expect from a great American IPA: Hop-forward, yet civilized. Bitter but balanced. Cascade hops ring loud and clear with citrus/pine notes and are backed up by a chorus of our other favorites – Apollo, Centennial, Chinook, Columbus, Crystal and Simcoe.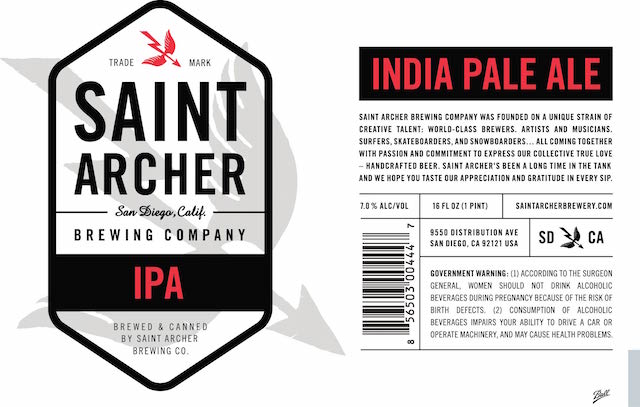 Saint Archer Brewing – Saint Archer IPA – 12 oz. can poured into a pint glass. 7.0% abv. 
Appearance:  Pours a regal yellow gold with a tight white cap of foam atop.
Aroma: Grapefruit, sativa, tangerine, fruit cocktail.
Taste: Beautiful mixture of dank citrus and grassy American hops. Very dry pilsnerish bready malt. Finishes with moderate length clean bitterness that lets up for repeat sips.
Mouthfeel:  Bone dry, average carb, medium bodied.
Overall: This is exactly what I want from an IPA, and a perfect example of a San Diego IPA. With that said, if you like your IPAs a bit sweeter, it might get some taking used to. This might be in my top 3 IPAs as of this posting.