Russian River Toronado 25th Anniversary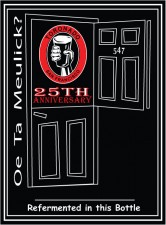 From Russian River – You might remember when we made a special beer for their 20th Anniversary (I think I remember parts of that week ;-). Of course, we could not resist the temptation to honor them again with another special concoction. What style of beer is it? Vinnie, the mad scientist, says it is a "sour barrel-aged disproportionate blend of 6 different beers". Upon tasting it this morning, I would say the beer itself is as big a mouthful as the description! The 6 different components were brewed separately with distinctly different processes, then Vinnie and Dave decided on the final blend together. It is 100% bottle conditioned and has brettanomyces, lactobacillus, and pediococcus.  ABV is 8.75%.
Russian River Brewing – Russian River Toronado 25th Anniversary – 750 ml. bottle poured into a goblet. 8.75% abv.
Appearance:  Pours a bright amber with a white cap of head.
Aroma:  Red wine, wine soaked cork. I have never smelled a beer so wine barrel intense. Some nice big basement funk.
Taste:  Tart berry/red fruit, funky tart wild yeast, tanins. Very bright and fruity.
Mouthfeel:  Lively active carbonation. Full bodied.
Overall: Simply amazing. Great levels of sour, fruit and wood.  I've heard people dismiss this beer as "Consecration" or "Supplication." It's neither, just as spectacular if not better.