Russian River Sanctification Batch 4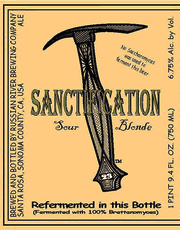 From Russian River – Sanctification is one of the most unique beers you will ever taste! It was fermented with 100% Brettanomyces, rather than the traditional Saccharomyces.
Russian River Brewing – Russian river Sanctification Batch 4 – 750 ml. bottle poured into a goblet. 6.75% abv. From online trade.
Appearance: Pours a vibrant, cloudy gold with a tight 1/4 inch cap of white foam.
Aroma: Nice barnyard nose. Wood, diaper brett and vinegar notes as well.
Taste: Big time oak tannins, vinegar, metal, sour fruit (lemon, sour peach).
Mouthfeel: Chewy, light fizz.
Overall: Amazing, and unique to all of RR's other amazing sours.