Rodenbach Grand Cru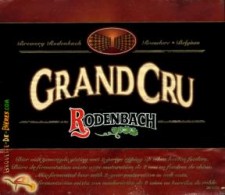 From Rodenbach – A blend of 1/3 young beer and 2/3 of beer aged 2 years in large oak vats. The more important proportion of oak matured beer contributes to its fruity taste, complexity and intensity. The finish is worthy of a great wine.
Brouwerij Rodenbach – Rodenbach Grand Cru – On tap at Stone World Bistro and Gardens – Poured into a goblet. 6% abv.
Appearance: Pours a dark ruby with a beige cap of tight foam.
Aroma: Cherry pie filling. Very similar to many American made Krieks I've had.
Taste: Sour cherry, sweetener (splenda?) and wood tanins.
Mouthfeel: Chalky, low carbonation.
Overall: Not too shabby.