Robert Masterson & Ryan Reschan / Rip Current / Stone R&R Coconut IPA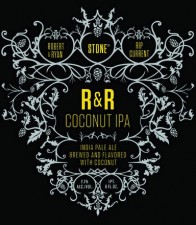 From Stone Brewing – Originally dreamt up by homebrewers Robert Masterson and Ryan Reschan, who earned themselves the top prize in our 2013 American Homebrewers Association homebrewing contest, this innovative beer marks a refreshing sea change for IPA lovers everywhere. It was brewed with 280 pounds of coconut and an unusual blend of hop varieties, including a few from faraway lands or just brand spankin' new, and is guaranteed to taste like no IPA that's gone before. Prepare yourself for a tropical breeze of a brew that will lull you to a place of tranquil contentment for a little R & R.
Stone Brewing Co. Robert Masterson & Ryan Reschan / Rip Current / Stone R&R Coconut IPA – Reviewed by bottle, compared to draft offering. 7.7% abv.
Appearance:  Pours a hazy orange tinted gold with a thick film of tight white bubbles and a creamy off white ring around the glass.
Aroma:  A mix of dank hops and young coconut, creating the illusion of a Orange Julius. The draft version didn't nearly as much coconut essence. Some malt sweetness as well.
Taste:  Great punch of bitter American hops, lots of citrus and pine. Some fresh coconut flavors. A little tangy. Finishes with humungous bitterness that lingers.
Mouthfeel:  Medium bodied, juicy, average carbonation for an IPA, and slightly numbing from the hops.
Overall:  My expectations for this beer, much like for any beer that focuses on a special ingredient, was for this to blow me away with coconut. When I had my first pour at the Stone Company Store at their serving temperature, not a trace of coconut. They suggested I warm it up and swirl to get the coconut action, however it only unlocked it on the palate.  Later that evening, out of the growler, I had the same results, just traces of coconut.
The bottle however, was a different experience. Just cracking the bottle brought upon coconut essence, and was pretty apparent throughout the entire session.  All I can gather is carbonation and possibly stainless steel versus glass can make the difference for this particular beer.  Anyone who shared their opinion that the beer was lacking in coconut, would be met with my counter of "but it's a damn good IPA."