Rising Tide Daymark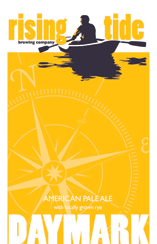 From Rising Tide – Chart a new course with Daymark as your guide. We start with a classic, clean and crisp American pale ale brewed with spicy Columbus and Centennial hops. Then we accent the grain bill with rye grown on small local family farms right here in Maine and malted to our specifications at Valley Malts, an artisanal malt house. Finally we dry hop the finished beer for a bright floral aroma.
Rising Tide Brewing – Rising Tide Daymark – 22 oz. bottle poured into a pint glass. 5.5% abv. Thanks Steve!
Appearance: Pours a murkey dark yellow gold with a large homebrew like head.
Aroma:  Huge centenial hops, super fresh. Orange tangerine. Spicy.
Taste: Dry malt, spicy yeast with grapefruit pine hop bitterness that lingers.
Mouthfeel: Full bodied with high carbonation.
Overall: This bottle conditioned ale just didn't do it for me. The hop profile was perfect, and that's where the enjoyability ended for me.  Way too cloudy, way to thick and over bottle conditioned. Came off like an entry level home brew. I will keep in mind they are a 1 bbl brew house, so best of luck to them in perfecting their products as they go through any growing pains.