Reviewed: Hardywood Park Bourbon Barrel Cru
Product description: Abbey-style quadrupel aged in bourbon barrels. Brewed in the fashion of Belgium's revered monastic breweries, Bourbon Barrel Cru displays a rich mahogany hue with a medium body and brilliant clarity after months of barrel aging. The maturity and melding of flavors brought on by the freshly drained bourbon whiskey barrels lend an extraordinary sense of harmony to Bourbon Barrel Cru. Almond, toffee and oaky vanilla give way to notes of dark cherries and raisins. Subtle hints of plum are greeted by caramel overtones for a smooth, robust and warming finish. 12% ABV, 18 IBUs.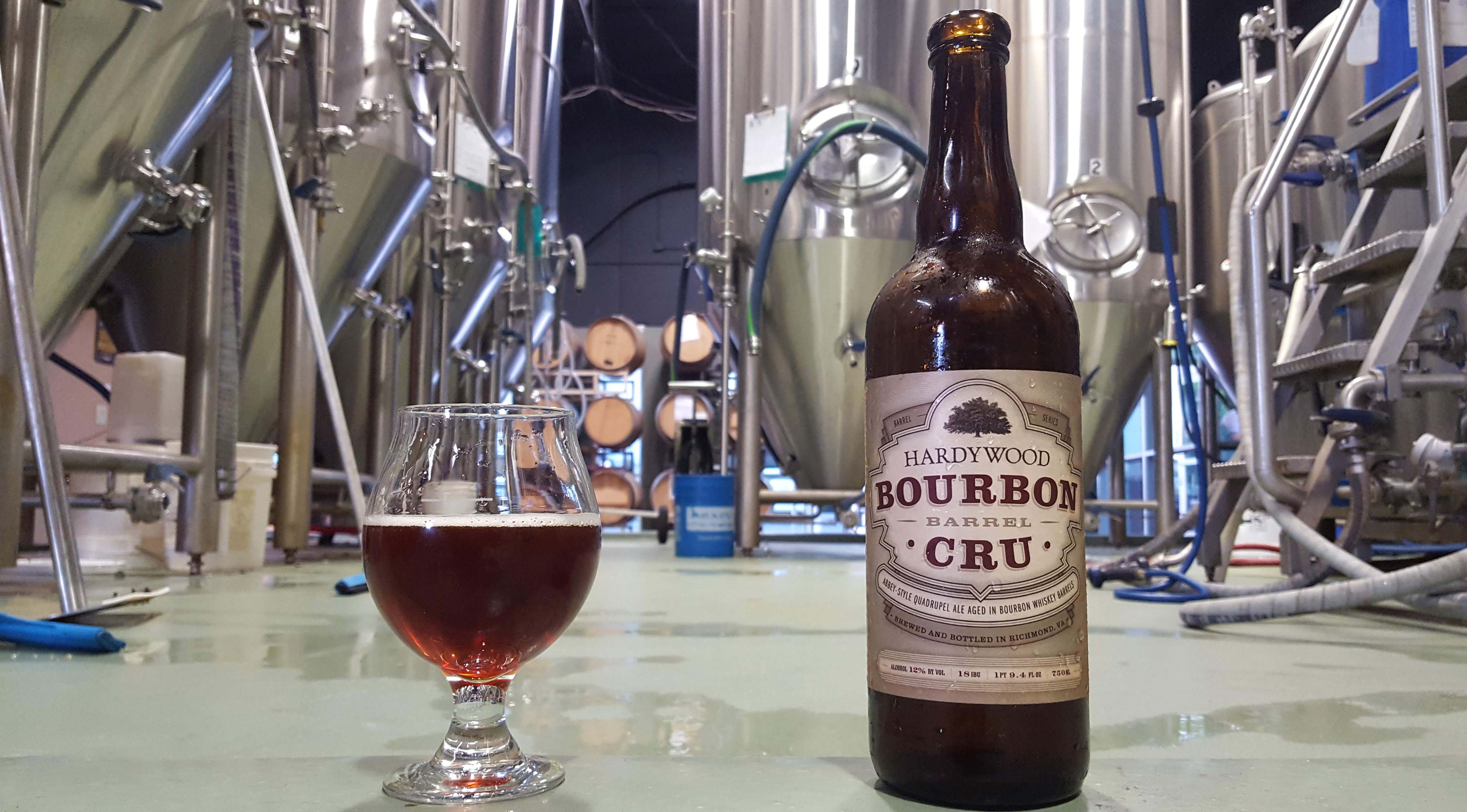 Hardywood Park Craft Brewery – Hardywood Bourbon Barrel Cru – 750ml served in globe – 12% ABV
I recently sampled this from a corked and caged 750ml bottle pulled out a bit warmer than cellar temp – probably at 60° F. Into the globe glass, Hardywood Park's Bourbon Barrel Cru is crystal clear, dark reddish brown in color with hardly any foam. A minuscule tan ring of bubbles forms around the edge of the glass. I deliberately read up nothing about this beer and didn't even know the style or alcohol content until after I reviewed it on paper. My first impression is that this is a bourbon barrel American strong ale or barleywine. The aroma is soft but obvious bourbon barrel with vanilla, buttercream frosting, rum cake, golden raisins, fruitcake, and red licorice. I had four others from my regular tasting group sample this with me totally blind (I can't put down a 750 of 12% beer solo), and the resounding consensus was that the aroma really nailed it for the best you can hope for with bourbon barrel aging. Though the base beer remained nebulous with barleywine the vote from three tasters and American strong ale of some sort from the other. I remained on the fence thinking that it was perhaps a blend of several beers.
We didn't know the ABV but just looking at the beer and smelling it, 11-13% was the guess from everyone. We braced ourselves for a syrupy sweet, monster beer. Instead, this was incredibly nuanced and well-rounded. Sweetness, in my opinion, is sitting at a 4 out of 10 intensity-wise while bitterness is at a 3/10. All aspects were nicely balanced. Thanks to the lack of sugar, that moderate amount of background bitterness does significant work in giving the beer structure coupled with moderate wood tannins. Everyone thoroughly enjoyed the beer and we all thought it hid the ABV extremely well. Bourbon and wood flavors provide about half of the substance while toffee, fruitcake, and red licorice provide only a quarter. The remaining quarter is all kettle hop bitterness, which I really appreciated.
After the bottle reveal, it was surprising to find out that it A) wasn't a Firestone Walker beer, our regional barrel-aged strong ale masters, and B) that it was originally an Abbey Quadrupel for the base beer. Abbey Quadrupel in my experience is usually murky and darker-colored with huge raisin, plum, and black cherry flavors coupled with a significant Belgian yeast presence. Fruitcake and red licorice are all that remain from the base beer at this stage. Thanks to some serious barrel aging, this beer has clarified nicely and the yeast expression is gone – overtaken by bourbon barrel. Though Abbey Quad is the original recipe, the end result is far enough away from that style that I maintain this is its own beast like the nebulous category American strong ale, though background bitterness and toffee hinted at barleywine.
Regardless, this was a phenomenal beer that shows some serious expertise in barrel aging, i.e. pulling the beer out at the best time to allow the bourbon barrel aroma to dominate but not wood tannins. Dryness on this beer was exceptional but not overdone to an astringent level that I see in similar beers. Even though I typically avoid strong dark ales like this, Hardywood Park has renewed my faith that some people still want a well-balanced, nuanced bourbon barrel strong ale as opposed to a heaping mess of sugar and booze. Kudos!
*         *        *
Please use the comment section below for general comments about this beer and/or my review. If you would like to see a specific beer reviewed or have general comments on reviews, please email info(at)thefullpint.com. For more information on how we review beer read here.