Reviewed: Guinness Draught
Official description: Developed in 1959, this beer was our brewers' celebration of Arthur Guinness signing his 9,000-year lease – a fitting way to mark 200 years of groundbreaking brewing. With a skillful pairing of nitrogen gas and carbon dioxide, the smooth, velvety texture was born.

St. James's Gate Brewery – Guinness Draught – 14.9oz nitro widget can served in Rastal Harmony glass – 4.2% ABV
Background
For St. Patrick's Day this year, I texted our Editor-in-Chief Danny Fullpint and asked for his permission to write up a review for Guinness. I assumed he'd say "no" given The Full Pint's focus on American craft beer. Plus, I don't think I've reviewed a macro beer even once while writing for the site. But Guinness holds a special place in my heart, so I thought I'd give it a try. To my surprise, I got a "yes"!
Before diving into the review, let me say if you are picking up Guinness from the store, there are at least two different recipes you may find. The most popular version is Guinness Draught, which comes in black 16oz cans and black 12oz bottles, which are the portable versions of the famous draft Guinness you would find in a bar with its iconic creamy, nitrogen-gas driven head of foam. These versions incorporate a ping-pong ball-sized widget inside that nitrogenates the beer upon opening. Second, you may stumble upon Guinness Extra Stout with its tan label, which is a different beer at 5.6% and isn't nitrogenated. And if you are very lucky, you may find Guinness Foreign Extra Stout with its yellow label, which is common in parts of Asia, Africa, and the Caribbean, though difficult to find elsewhere. This version is stronger at around 7.5% and was my drink of choice when I lived in West Africa. Foreign Extra is brewed at several African breweries, and it offers up essentially the polar opposite in taste profile of the ubiquitous pale lagers sold alongside it such as Star Lager.
Review
I'm reviewing Guinness Draught from a 4-pack of 14.9oz cans that I picked up for around $8 plus tax. On the bottom of the can, there's some sort of packaging code, but it isn't a legible canned-on date, unfortunately. Cracking open the can, there's a cacophony of popping and hissing sounds as two different gases disperse. Though you can't see it unless you cut the can open, there's a ping-pong ball-sized widget in there dispensing nitrogen gas the moment you open the beer. The label instructions say to wait a moment for the widget to finish its task before pouring.
Though Guinness tells you to pour the beer into a glass at a 45-degree angle per the label instructions, I found after several attempts that you can dump the beer in hard at full vertical and won't have the same head overflow problem that you might experience with a regular beer. (This is the way several craft nitro beers recommend, too.) At first, you get a weak head of soapy foam. But then there's the iconic "surge" of nano-sized bubbles that creates a reverse cascade effect as if watching an oversized cup of espresso come to life. The whole show is over in less than 30 seconds, so enjoy it while you can. The result is a solid black beer underneath a dense, creamy, tan layer that refuses to collapse.
Bringing up the glass, I get Tootsie Roll, malted milk ball, and café au lait aromas. Underneath that, hints of charred lemon and dark roast coffee emerge. Digging in, Guinness is surprisingly thin-bodied especially in light of its dessert-like appearance and aroma. In fact, it's lighter-bodied than many pale lagers I've recently reviewed. There's hardly any sugar content – essentially a 0 out of 10 level, which is highly unusual for most stouts and porters, but typical for the Irish Dry Stout style. (You'll find Guinness rivals like Beamish and Murphy's have similar profiles.)
Acidity plays a greater role here than regular stouts/porters. Derived from the roasted malt rather than fermentation, Guinness has subtle lemon tea and acidic coffee flavors that brighten it up. With that lack of sugar for balance, overall bitterness and acidity are sharper than you might expect. Guinness is firmly bitter with earthy, coarse-ground coffee flavors. About the closest thing you get for balance is the silky, nitro mouthfeel.
Just from looking at the graphic below, you can see that Guinness has a highly unusual profile compared to the beers I often review.
Perceived Specs for Guinness Draught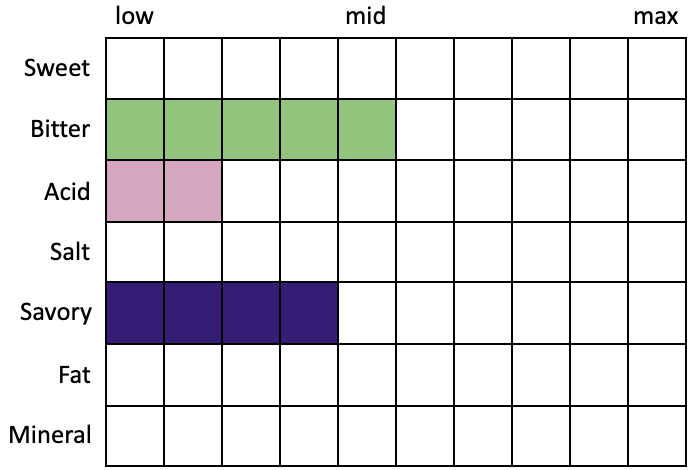 Conclusion
Guinness is a Master Class in roasted malt flavors. There's not much else competing for your attention besides their roasted in-house specialty malt. Earthy bitterness and mild coffee-like acidity form the backbone of the beer while soft nitrogen bubbles provide subtle balance. Its low density, absence of sugar, and svelte 4.2% ABV make Guinness far more refreshing than your standard stout. (Full pours of Guinness Draught have a life expectancy of under 10 minutes in my house.) It's also one of the most aesthetically pleasing beers in a glass with the iconic "surge" of nitro bubbles settling into a dense layer of tan foam. But its hefty looks belie its true nature as a perfect session beer. Guinness is a sheep in wolf's clothing.
VERDICT: 90 pts (OUTSTANDING)
*         *        *
The Full Pint is a fully independent website dedicated to bringing you the highest quality reviews of today's craft beer. Our team has no financial conflicts of interest with the beer industry in order to give you the least biased information out there in today's craft beer world. Please use the comment section below for general comments about this beer and/or our review. For more information on how we review beer read here.