Reviewed: 3 Floyds Zombie Dust
From 3 Floyds Brewing – "This intensely hopped and gushing undead Pale Ale will be one's only respite after the zombie apocalypse. Created with our marvelous friends in the comic industry."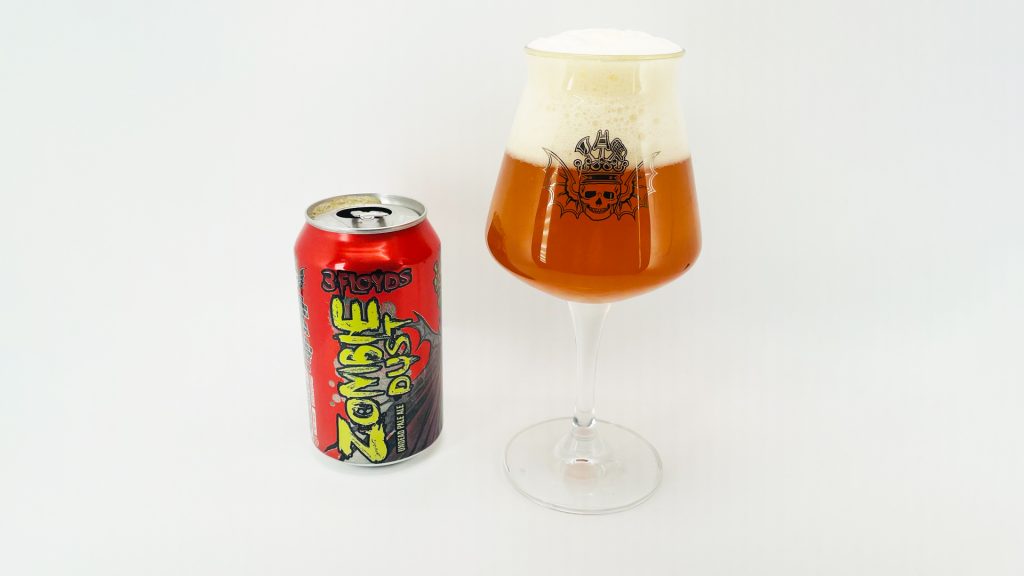 Citra entered the craft beer lexicon in 2008, and fundamentally changed American IPA production forever. Sierra Nevada Torpedo IPA may have introduced us to Citra, but Zombie Dust (first released as Cenotaph) brought it to another level in a single-hop pale ale. After more than a decade of production, let's check in with Zombie Dust.
3 Floyds Brewing – Zombie Dust – 12 oz can poured into a 3 Floyds Teku. 6.5% abv.
Appearance: Orange hue with a substantial, fluffy off-white head.  It has a fair bit of dry hop haze; practically translucent by modern American hoppy beer standards. It is rare to see a pale ale these days with this much color, but the Midwest loves a small crystal malt addition.
Aroma: Immediate blast of raw hop aroma, green and a bit dank. Behind that, a nice citrus with a touch of pine resin. Malt aromas of caramel combine with the hops to form orange zest.
Flavor: Medium bitterness paired with a balance between the candy-like crystal malt and the orange, grapefruit and resiny hop flavor. I know people like to shun the use of crystal malt in hoppy beers, and I get it; but when it's paired with the right hop bill, it really melts all the flavors well. Medium body, with a nice lingering bitterness.
Overall: As a Midwest expatriate, I moved away before the Chicagoland beer scene glow-up. I try to get back as often as possible, and am always curious what 3 Floyds is cooking up. Zombie Dust is a cult classic beer for many reasons: heavy use of Citra, 3 Floyds lineage, and overall drinkability. Weighing in at 6.5%, this plays at the high end of American Pale Ale aroma and flavor. Every few sips, I do wish it was a bit hoppier, but perhaps that's the Lupulin Threshold Shift talking.