Review – XX Bitch Creek Double ESB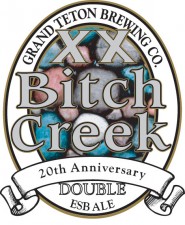 To commemorate that twenty-year history, Grand Teton's brewers have chosen four of their year-round beers–three current, one historical–to strengthen and enhance. XX Bitch Creek Double ESB is the final release in their 2008 XX series.
Grand Teton Brewing – XX Bitch Creek Double ESB – 12 oz bottle from the source, poured into a pint glass. 7.5% abv. Commemorating Grand Teton Brewing's 20th Anniversary.
Appearance: Midnight maroon with a sturdy, tight knit 1 inch tan head.
Aroma: Cinnamon, brown sugar, maple sugar and a hint of hop resin.
Taste: Tart cherries, a big mouthful of hops, then the sugars and cinnamon mentioned in the aroma. Leaves a nice hop bitterness on the finish.
Mouthfeel: Creamy, thick and full.
Overall: I have probably just spoiled myself, as this is my first Grand Teton Brew.  This is one hell of a beer, hopefully Grand Teton will brew more of this, or something close to it.