Review – Victory Brewing Storm King Imperial Stout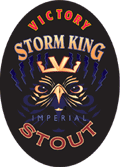 From Victory Brewing – With a huge, Pacific Northwest hop aroma & character upfront, Storm King subsides into massive, roast malt complexity. More flavor than mere words can adequately describe. Rich and substantial, it will warm your heart.
Victory Brewing Storm King Imperial Stout  – On draft from the tap at Applebee's (New Jersey) in their 22 ounce tall-boy glass. 9.1% abv
Appearance
Opaque jet black with one two full fingers of creamy tan head. Excellent lacing around the glass that continues to grow after each sip.
Aroma
Super hoppy – not what I was expecting at all. From my first sniff, I knew I was going to like this hop-loaded beer and I was right. Smells of sweet, smokey malt are tucked deep within.
Taste
Roasty dark chocolate and coffee notes. A little dry but still enough creaminess to keep my palate wet. The hop bitterness is simply amazing and offers all the complex notes usually found in Northwest hop varieties.
Mouthfeel
Warming sensation from the high alcohol. More than enough carbonation to keep you from gulping this one down. I was a little surprised at how Victory was able to keep a moderate body with their stout with such intense flavors going on.
Overall
My wife and I went to dinner at Applebee's last night and I was stoked to see that they had Victory on tap. I have been so pre-programmed to order Sam Adams when I go there that it was refreshing to see a local favorite. I asked for a taste before diving in and it was so good that I ordered the biggest glass they offered. The girl described it as "like Guiness" but she was wrong. Maybe in appearance they are the same, but in aroma and taste they are considerably different. This flavorful gem is sure to become a mainstay in my beer fridge.