Review – The Bruery Saison de Lente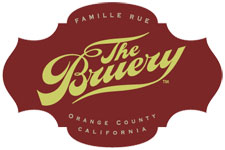 From The Bruery –Our Spring Saison is light blonde in color with a fresh hoppiness and a wild and rustic Brettanomyces character. Lighter in color and alcohol than our Saison Rue, yet equally complex in its own way. Perfect for warmer weather and Spring celebrations.
ABV: 6.5%, IBU: 35, SRM: 4, Release: Spring
The Bruery – Saison de Lente – On cask at the source poured into The Bruery's glassware. 6.5% abv.
Appearance: Poured a light orange that started with a large sudsy head that subsided to a mere trace.
Aroma: Clove, spice, bathroom decorative soap, and a nice whiff of fruit.
Taste: Clove, moderate hop bitterness that had a little bit of a metallic finish.
Mouthfeel: Creamy and sparkly. I was surpised at the level of carbonation, being drawn from cask. I found out extra priming sugar was used to achive this. Very impressed!
Overall: Smooth, complex, tasty, and not too sweet, and not too dry. I will seek a bottled condition version to see how different it would be.