Review – Tallgrass Ale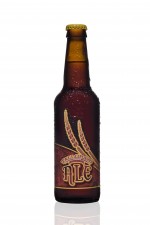 From Tallgrass Brewing – An English Style Brown Ale is the flagship beer of Tallgrass Brewing Company. It is a deep chestnut color with a smooth character. The distinctive look and taste of Tallgrass Ale comes from its unique blend of German, English, and American-style malts and a generous helping of both American and traditional English hops.
Tallgrass Brewing – Tallgrass Ale – 12 oz. bottle poured into a pint glass. ABV unknown.
Appearance: Pours a clear, dark amber, with a khaki colored 1/4 inch head.
Aroma: Honey wheat bread, toast, and another grainy smell I can't quite pinpoint.
Taste: A nice chocolaty/coffee roastiness, finishing with a dry cocoa and hop spice, with the roast cocoa lingering well past the sip.
Mouthfeel: Thin yet creamy.
Overall: I really like this beer. Has lots of flavor and character, but drinks like a poundable session beer.