Review – Surly Furious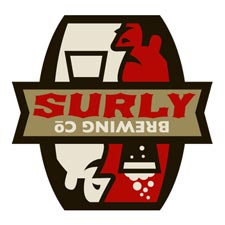 From Surly Brewing – Furious – A tempest on the tongue, or a moment of pure hop bliss? Brewed with a dazzling blend of American hops and Scottish malt, this crimson-hued ale delivers waves of citrus, pine and caramel-toffee. For those who favor flavor, Furious has the hop-fire your taste buds have been screeching for. IBUs – 99
Surly Brewing Co. – Furious – 16 oz. can poured into my New Belgium beer glass. 6.2% abv.
Appearance: Pours a dark orange or amber with a perfect 1 inch off white head.
Aroma: Light whiffs of piny hops, a little bit of citrus, and crystal malt.
Taste: Orange, lemon, pineapple, bitter piny hops, and sugar sweetness. Finishes with a nice level of bitterness.
Mouthfeel: Juicy, thick. Flavors stick and linger long after the sip.
Overall: Bursting with flavor. I am noticing a trend in the IPAs and IIPA's coming out of the region. This is a very west coast like beer.