Review – Stone Old Guardian Barleywine 2007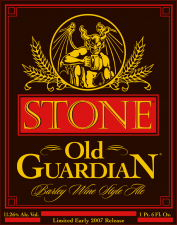 Stone Brewing Co. – Old Guardian Barley Wine, Vintage 2007. – Growler from Stone Winter Storm 2009, poured into Old Guardian Specialty Beer Glass. – 11.6 abv.
Appearance: Dark peach with a nice 1 inch head. Cloudy, but letting light through.
Aroma: Light citrus, apricot and brown sugar.
Taste: Bitter hops, caramel, dried apricot and mango. Very spicy.
Mouthfeel: Thick but not syrupy. Carbonated perfectly.
Overall: Lovliness! A dank Imperial IPA or Barleywine. Perfect level of hops still exists, but the other flavors have come through nicely.
Bonus: Here is the glass I sampled this out of.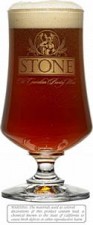 Click here to find out Stone Brewing Co.'s Growler Fill Schedule. You will find many treats that they do not bottle, or no longer sell bottled.