Review – Stone Imperial Russian Stout 2009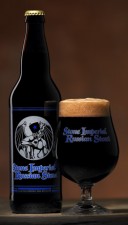 Stone Brewing Co. – Stone Imperial Russian Stout – Vintage 2009 22 oz. bottle poured into a goblet. 10.5% abv. Purchased at Whole Foods Market – Arroyo Pasadena, CA.
Appearance: Pours a midnight brown, with a small khaki colored frothy head.
Aroma: Most noticeable was that I could smell it from a few feet away.  Aromas of dark chocolate, burnt malts, chocolate liquor and a small bit of licorice.
Taste: Burnt and roasted malts, some dark chocolate and black coffee notes, some spicy hops, and a small sour twang at the end, that reminds me of red wine or red wine barrel.
Mouthfeel: Silky, and spicy on the tongue.
Overall: I taste something different every year with this beer, and as it ages. This fresh bottle seems to exhibit a large burnt malt flavor, and with other really fresh Stone Special Releases, seems a bit boozy, and in this case spicy.