Review – Stone 12th Anniversary Ale (1 Year Later)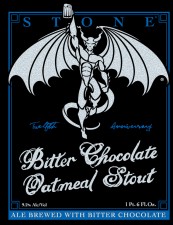 From Stone Brewing Co. – "Our Anniversary Ale this year stems from 2 pilot beers that were brewed by members of Team Stone. The first was Jeremy Moynier's incredibly delicious Oatmeal Stout, and the second was Jake Ratzke's amazing homebrewed Imperial Stout that had authentic Oaxacan chocolate added to the boil. We loved both beers so much that we decided to combine the recipes to make this year's Anniversary offering: Stone 12th Anniversary Bitter Chocolate Oatmeal Stout…"
Stone Brewing Co. – 12th Anniversary Bitter Chocolate Stout –  Brewed in 2008, Reviewed 2009 – 22 oz. bottle poured into a goblet. Purchased at Certified Market, Monrovia, CA.
Appearance: Pours a midnight brown with a small collection of tan foam and froth at the top.

Aroma: Heavily roasted malts, burnt malts, dark chocolate. None of this is overwhelming.
Taste: Dark chocolate, dark fruit, spicy hops, bitter hops and a small touch of booze still.
Mouthfeel: Silky and sparkly.
Overall: The bitterness has knocked down, and more fruity flavors have arrived.  The aroma is not huge, but the flavor more than makes up for it.