Review – Sierra Nevada Bigfoot Barleywine 2009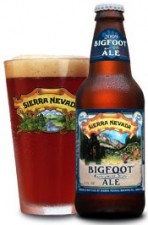 From Sierra Nevada Brewing Co. – GOLD MEDAL WINNER
California State Fair (Strong Ale/Barleywine: 2005, 2000, 1997)
Great Alaska Beer & Barleywine Festival (Barleywine Style Ale: 1998)
Great American Beer Festival (Barleywine: 2005, 1995, 1992, 1988; Ales: 1987)
Sierra Nevada Brewing Co. – Bigfoot Barleywine Style Ale, Vintage 2009. – 12 oz. bottle poured into a New Belgium Beer Glass. 9.6% abv. Purchased from Bevmo Pasadena, CA.
Appearance: Dark mahogany that starts with a big sudsy head. A small bit of light can get through, and the head eventually subsides to a 1/4 inch of suds. As I enjoy, spotty lace is left of the glass.
Aroma: Resinous, citrus like hop aroma, grapefruit juice and rock candy sugar.
Taste: Super bitter hops, followed by a layer of syrupy brown sugar, finishing up with another layer of bitter hops that linger dead in the middle of my tongue. After sipping and guessing, I find a bit of semi-sweet chocolate as well.
Mouthfeel: Thick and sticky.
Overall: Seems way more bitter this year, although I would imagine on the day I reviewed this (2-5-09), that this was pretty young, and hasn't had much chance to 'cool down.'  I really love the hop bill in this every year, and will continue to sip on this 6 pack throughout the rest of the month.  Now that Sierra Nevada has used the pry-off caps the last two years, I would encourage you to save a six pack of this beer for a few years.  I purchased this at $11.99, and can tell you, for a beer near 10%, this is the best bargain for great beer in town.