Review – Russian River Damnation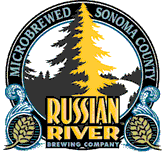 Russian River: "Damnation is our brewmaster's interpretation of a Belgian style Strong Golden Ale. It has extraordinary aromas of banana and pear with mouth filling flavors of sweet malt and earthy hops. The lingering finish is dry and slightly bitter but very, very smooth."
Russian River Damnation
7% abv
Chilled draft beer poured into a room temperature pint glass.
Appearance
Bright and mostly clear golden-yellow color with just a minor amount of haze. Fluffly and light carbonation sits on top of the glass but does not hang around long.
Aroma
Fruity notes of the fall harvest – apples and such. Subtle breadiness in the background balances out the sweet smells.
Taste
Very smooth and clean. Slight alcohol taste but nothing crazy or undrinkable. Also a bit sweet from the malt with a good balance from the hops.
Mouthfeel
A little tartness up front followed by a smooth, low carbonation finish. Left my mouth watering for another for sure.
Overall
I tried my first Russian River beer at the Toronado in San Francisco last week…and my second and third and so on. Damnation was as delicious as I hoped and it went down smooth. This is definitely a beer that can be consumed throughout the entire night as it was not too heavy.