Port Brewing High Tide Fresh Hop IPA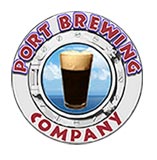 Port Brewing – High Tide Fresh Hop IPA – 22oz bottle found at Bevmo Pasadena into a pint glass.  6.5% abv.
Appearance: Super cloudy, dull yellow that starts with a pillowy head that subsides to a pinstripe. The bottle had a noticeable amount of sediment at the bottom. After a few big sips, you will notice a webby lace left on your glass.
Aroma: My initial smell included all parts of the lemon. The zest, the oil, and the juice.  Resinous hop and small note of pine.
Taste: Grapefruit, lemon, rock sugar candy.  Starts out sweet but between the hops and malt, it ends with a tight, astringent bitterness.
Mouthfeel: Puckering and juicy.
Overall: What a wonderful, fresh treat.  I love this heads and shoulders more than Wipeout, and for longevity purposes, it works out better than Hop 15.  It is juicy, bitter, sticky, and smells terrific.  This years batch is yellow, and if I remember correctly, it used to have much more of an orange hue to it.  And as arrogant as this may sound, please all you brewers out there, please take notice. This is what an IPA can be.