Review – Oskar Blues Ten Fidy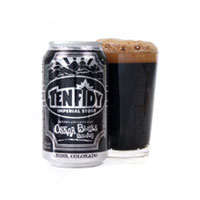 From Oskar Blues – Ten FIDY is about 10% ABV and is made with enormous amounts of two-row malts, chocolate malts, roasted barley, flaked oats and hops. Its huge-but-comforting flavors hide a whopping 98 IBUs that are deftly tucked underneath the beer's mountains of malty goodness.
Oskar Blues Brewing Co. – Ten Fidy Imperial Stout – 12 oz. can poured into my New Belgium glass.  9.5% abv.- Purchased at Beverages and More in Pasadena, CA. If you look underneath the can, there is a "Enjoy Batch #4" "Canned on 12-22-08" and "Dark is the Absense of Lite."
Appearance: Pours jet brown with a foamy head that subsides to a think layer of tan froth. No lie, when you are pouring it into a glass, it really looks like you are pouring motor oil into your glass. The first time I had a can of Ten Fidy, it didn't even pour head.
Aroma: Roasted malts and caramel. Also whiffs of chocolate and dark fruit.
Taste: Dark chocolate, dark fruits, roasted and burnt malts and a bit of hop spiciness.
Mouthfeel: When you watch it pour, you can almost anticipate how thick this can be. Surprisingly it is still thinner than say Abyss, and Darklord. It feels mostly thick but not goopy.
Overall: This beer rocks.  It have a nice balance of malts, hops, bitterness and sweetness for the style.  You might walk up to a four pack of canned beer and say "no thanks, four beers for $9 – 11.oo."  These four beers (if you can) will make for a tasty and fufilling evening of beer drinking.